News, New Arrivals
Tuesday, January 11, 2022
NEW for 2022
Our New Over-Cap Tin is Plastic Free and helps Brands and Retailers Develop Added Value in Premium Instant Coffee.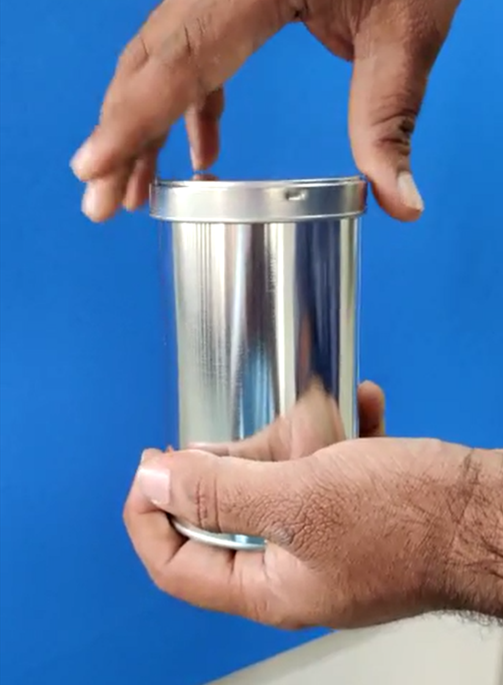 Complete Coffee's new all-metal can and over-cap are plastic free and help brands and retailers add value to their premium instant coffee ranges.
Are you a brand owner or a retailer wanting to take the next step in product development? Maybe you are looking for ways to make your brand or private label more premium? Perhaps you've made a New Year's resolution to remove plastic from your range and are looking for the right solutions?
We help clients realise their vision for superior coffee products and our latest packaging innovation provides exciting new possibilities. We've developed an all-metal can for premium instant coffee products, with a metal over-cap that opens and closes with a satisfying and secure 'snap'. There is no plastic at all. Nil. Zilch.
A tamper-proof foil seal ensures coffee is kept in perfect condition and the cap is free of plastic wadding (the lining material often found under the lid). The cap can be made in a single colour to match your brand's palette and a logo can be embossed.
Our super new cap helps brands realise greater appeal amongst premium consumers, mirroring retail trends AND eliminating all plastic.
100% of the packaging is recyclable via standard household waste collections, or the consumer may decide to keep it as a useful multi-purpose storage container. Take a closer look in this video:
We think this solution is the perfect partner for premium instant coffee products such as our new Cold Brew Instant Coffee or our Premium Freeze Dried, Microground, or Crema Coffees. These are just part of our range of instant coffee solutions. To find out more drop us a line here Email Us Now. Check out our article on plastic free packaging here.
At Complete Coffee, we know a thing or two about coffee. We've been selling green and soluble coffee since 1929. Now part of the Sucafina Group, we offer an unparalleled range of sustainably sourced green coffee, soluble coffee, and finished products with a wide array of jars, sachets, pouches, boxes, and tins. We offer everything conceivable for roasters, brands, and retailers – just ask!
Related News
News, New Arrivals, Resources for Roasters
New Arrivals, News